Alexander Technique in the Workplace
Businesses depend on employee performance and fitness. A recent study (see Research) commissioned by the Spanish government showed organizations throughout the world providing continuous Alexander Technique program greatly reduced musculoskeletal pain and disabilities and stress resulting in increased time-on-the-job.


On-the-job injuries, back and neck aches, arm and hand pain, headaches, tension, eye strain and repetitive motion stresses all cause a lack of ability to focus and to carry out tasks at hand in an effective, efficient manner. Changing equipment and furniture is not enough to prevent work related physical discomfort. The Alexander Technique teaches one how to undo poor or effortful posture and learn the efficient ergonomics of body usage. Its value is increasingly recognized in business and it is used by a wide range of companies including DuPont, Nike, Merck, BP, Siemens, Chanel, Hewlett Packard, Cincinnati Children's Hospital and Grey Advertising.

If left unchecked minor issues can turn into Workman's comp cases that eat away the profitability of your business. Installing ergonomically efficient equipment helps, but as you may have learned, it does not completely take care of the issues. Massage and physical therapy may relieve some of the pain and stress temporarily, but as employees return to work tasks, they continue with the same habits that produced problems. The original problems will continue as long as employees keep working unless they are taught to eliminate the issues.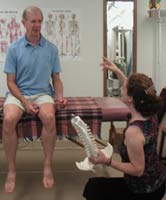 To have a lasting solution to this financial drain on businesses, employees require knowledge of how to sit, type, stand, bend, lift and move, in a way that reduces overall compression, stress, strain and wear and tear on their bodies. This knowledge cannot be obtained through archived media (books and published videos) alone. The Alexander Technique teacher provides employees interactive training in how to have effortless posture and movement skills taught by changing habits through the analytical eye and experienced hands-on guidance. Practical, easy physical experience combines with an understanding of new posture and movement skills which employees can appreciate and utilize in all areas of their lives, also preventing problems in their non-work life. Employees feel better generally, are calmer and most of all, more productive better able to focus and remain pain free.

Contact Eileen Troberman to discuss an Alexander Technique program designed to fit the needs of your organization.
Click on the images above
to view what Eileen Troberman student's say about her and the Alexander Technique.